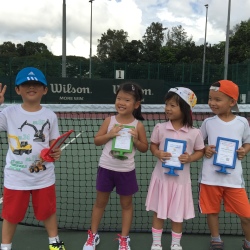 Type of children Tennis Programmes
Junior RED BALL Development 1
Junior RED BALL Development 2
Junior ORANGE Ball Development
Junior Green Ball Development
Junior Green Dot Development
Fees
1. Private and Small Group Tennis Fees.
2. Public group lessons:- 1.5 hr
Start: Jan/Feb; Mar/Apr; June/July; Aug/Sep; Nov/Dec
$35 per student; 4/6 students per class
Location: 
Condominiums in Singapore 

Public Tennis Centres

Community Clubs

Senja Cashew Community Club
Many parents enrol their children in kids' tennis lessons for different reasons. Most parents have a  simple objective that is wanting their children to be expose to a wide range of physical activities so that they will switch their attention from the iphone, ipad or computer games. After enrolling their kids into ápice Tennis Club, they find it surprising that their children actually can play tennis very well  at a young age. After all, age is not a factor that can restrict anyone to learn tennis and play well. In additional, tennis provide amazing benefits for the children's overall development.
The Tennis School provides two type of  kids tennis classes; Private tennis lessons located in any condominium in Singapore and Public tennis lessons located in any of the public tennis centres, schools, and clubs in Singapore.
Our kids tennis coaches have many years of experience teaching in private and public tennis schools or academies, their knowledge and understanding of child development is consider one of the best in the tennis industry. Coupled with many years of teaching experiences and tennis knowledge, the children tennis instructors are able to generate interest in the young mind and at the same time provide an overall development in tennis.
Benefits of Kids Tennis

Improvement of Health,
Development of Social Skills,
Enhancement of Discipline,
Quick Thinking & Clear Planning,
Important Life Lessons,
Direct School Admissions (Secondary/Junior/Polytechnic) Exercise

1.Improvement of Health
Health experts will attest to this fact— that tennis is one sport wherein most, if not all parts of the body are exercised and developed. In this light, kids who take part in tennis lessons will have the advantage of having stronger bones and greater flexibility as well as an improved immune system. After all, regular exercise in a fun way such as this sport is effective in keeping children away from illnesses. It is also a good way for children to grow up not being so stressed out by problems at home and in school. These kids will also be able to instill the value of good health early on.
2.Development of Social Skills
Engaging in sports is always great for developing social skills. This is because the kids will not be limited to their families, classmates, and teachers. They can gain new friends and interact in other social circles. This way, they get to meet a wider variety of people and learn to mingle with more individuals from all walks of life. As children train with various coaches and in different classes or meet a lot of people in tournaments and events in tennis, they will be able to improve their social skills more.
3.Enhancement of Discipline
One of the most vital things that kids can also benefit from here is the enhancement of discipline. Playing tennis definitely takes a lot of discipline because players have to be in good shape all the time and must also immerse themselves in trainings. Hence, kids who grow up in such influences can also develop stronger discipline that will provide more benefits as they grow up and even when they are adults already.
4.Quick Thinking and Clear Planning
In tennis, there is a need to think quickly and to plan clearly all the time despite any pressure on a player. As one moves, it is essential to strategize how to hit the ball, where to run, and more. Although tennis players can actually plan their moves ahead if they know what to anticipate, there are still plenty of chances within a game that calls for quick thinking and on-the-spot action. A good player must be able to practice how to plan and execute moves as various challenges arise during a game.

5.Important Life Lessons
What are some of the important life lessons that children can learn from kids' tennis lessons?  One of these is "Practice makes perfect". Even if one is not born with a natural knack for something, he or she can become even better than someone who initially was good at it already. This is possible because of practice. Aside from this, another life lesson that tennis students can apply in real life is how hard work and dedication can reap great benefits. Furthermore, children can be reminded that having fun is also essential while working hard. This makes burdens and challenges easier to carry and overcome.
With these marvelous benefits that students can get from kids' tennis lessons, it is no wonder more and more parents are seeking to enroll their little ones in these classes. After all, the benefits are not just short-term but will surely be of great use and value to the kids long after they have stopped the lessons.