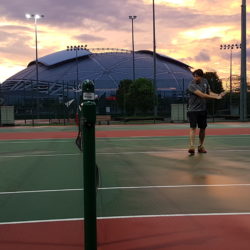 Location
Your Condominium Tennis Court or
Fees
1. Private and Small Group Tennis Fees.

Tennis has been gaining popularity in Singapore since the announcement that Singapore is hosting the WTA Championships starting from 2014 to 2019. There are plenty of enquiry on adult professional tennis lessons from our ITF & ITA professional coach to coach beginner to advanced students.
ápice Tennis Club has more than 20 coaches with different coaching qualification and coaching experience. The rate per lessons varies with different the qualifications of the coaches and the coaching experiences ($35-$100).
Location
Whether you have already tried playing a few games or is just about to begin taking up the sport, it is advisable for you to decide where you want to learn tennis lesson;
to learn at one of many Singapore public Tennis Court;
Country Clubs;
Singapore Armed Forces Reservists Association (SAFRA);
Civil Defence Association for National Servicemen (CDANS);
Civil Service Club (CSC);
People Associate (PA) or
even at your Condominium.
The easiest and most convenient location is always at your condominium where there is not need for you to spend money to reserve/book a public tennis court.
BEST way is to contact  us and we will assist you in arranging a training ground at anyone of our training centres.
Programme
A tennis student who is new to the sport can benefit from an individual or group class in which a structure 8-weeks lesson are prepared for you.
Group Lessons normally has lesser contact time with the coach as compared with individual private lesson. Hence, it is good to go for private lessons so as to master more skills and work on weak points with the full attention from the coaches in a shorter programme.
A Lot of Valuable Tips
There are many valuable tips that players, both new and old, can gain from the professionals; ITF or ITA Professional coaches . In different tennis lessons, instructors or coaches may give several useful and practical pieces of advice that can prove to be priceless in unexpected moments. For instance, one essential tip that professionals give their students often is that they ought to practice as if they were actually pros and about to compete in a real tournament. Those who tend to just do low intensity practices may not be able to go a long way in this sport or may not get sufficient preparation for the actual games.
Pinpointing Weaknesses
Professional tennis coaches are better in spotting weakness and correct them on the spot as compared to normal coaches. Hence season players like schools or clubs players will be able to have a trusted and experienced pinpoint correction by these coaches. This way, players can therefore focus on strengthening these skills that need fine-tuning.
Enhancing Strengths
Tennis students have the opportunity to work on enhancing the parts of the game that they are good at or where they show potential. The instructor or coach can inform them of these strengths and help them build on developing these even further. They can also be taught how to maximize these in order to win more games or to compensate for some weaknesses. Such is especially more doable in private lesson setups.
With these great benefits that adult professional tennis lessons bring about, men and women who are interested in taking up this sport seriously or going into it on a regular basis should definitely avail of the lessons first. After all, these are not just reserved for beginners and for those who want to eventually become pros. These lessons are important as well for overall safety and improvement of the game, allowing players to have even more fun with tennis.