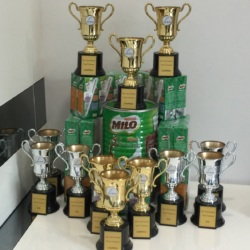 The Friendly Game is meant for Epic students who are currently taking lessons with us.
Date: Oct-Dec 2017
Type: Double kockout
League System: Winner-3 points, Runner-Up-1 point (the top 4 player will face off in the Grand final)
No. of Match: Each player will play as many matches depending on the no. of player registered.
Player A/B vs Player C/D (1 GAME)
Player A/C vs Player B/D (2 GAME)
Player A/D vs Player B/C (3 GAME)
Fess: $5 per Game per student for double or $10 per Game for individual play
Estimated Time per match: 1 hr
SINGLES/DOUBLE Matches point system

ONE (1) SET is played to EIGHT GAMES POINT
NO Tie-Break,  therefore won at 8-0, 8-1, 8-2, … 8,7
NO-AD SCORING shall be used 15, 30, 40, a point
Tournament Balls: Teloon Pound / Teloon LUX Q1 (Intermediate /Advanced Player) ; Teloon Green Dot (Beginner Player)
Umpiring: No umpire present, student will have to count their points
Prize: Trophies
Disclaimer:
Students play at their own risk, Epic Tennis and our coaches shall NOT be responsible for any injury or loss of life, or any other mishaps during the Game.
Students are to take cars of their valuables or other personal belongings.
Students are to abide to the Rules and Regulation of the sport Singapore facilities.