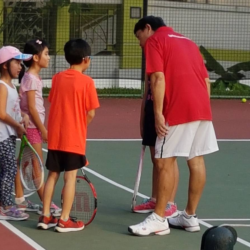 Locations
Q1: What is the best age for Kids to Learn Tennis?
There is no minimum age for kid to learn tennis, we have children who started learning tennis at 5-years-old.
Q2: How long will the tennis lessons for kids?
  It depend on the age of the child and the request from their parent. Normally, it is between 30 to 60 minutes
Q3: Is the kids Tennis Lesson same as an adult lessons?
No, children tennis lessons focus more on the overall developmental aspect. The 1st few lessons, focus will be on their lower extremities strengthening rather then skill development. Coordination is another major areas that we focus on; where kids are train to improve their eye-hand-legs coordination. Other development will be infused or taught gradually
Young Children can learn Mini indoor/outdoor (Toddler Tennis) before progressing to the actual Outdoor Tennis Lessons.
Q4: We are not sure whether our child likes tennis lessons, can we do a trial before we commit?
Yes, ápice Tennis Club offers one Trial session before parent commit to the 8-lessons programme.
Q5: Is the trial tennis lesson  FREE?
As our coaches need to allocate their time and travel to the tennis venue for the lessons, the trial lessons is not free.
Q6: If I signed up the kids tennis lessons, will my child's tennis coach be the same throughout the 8 lessons ?
We understand that by changing the tennis coach constantly, it is NOT Good for the child's development. Hence, at ápice Tennis Club we DO NOT change our coach once the tennis coach is being assigned to the students.